Katy Perry was right—California Girls are fine, fresh and fierce. Their sunny personality and creative style make for incredible wedding celebrations. From spectacular dessert towers and vibrant décor touches to distinct wedding ring styles and intimate ceremonies, California brides are the ultimate trendsetters. If you're planning a wedding in the Irvine area, scroll through to see the top wedding trends for today's sun-kissed brides and grooms.  
The Food: Moving Beyond the Same-Old, Same-Old
Hipster-Friendly Meals

Californians stay on the forefront of the latest and greatest food trends, so you can expect fresh, modern food choices for their big days. This year, you'll see more vegan, gluten-free and vegetarian options. Since organic food is a huge movement in the Sunshine State, couples often incorporate locally sourced, seasonal ingredients in their menus.

A Unique Twist on Wedding Cake

Cake is still a mainstay at most receptions, but with a modern twist. In lieu of the three-tier cake with buttercream filling, brides are turning to unique dessert towers instead.

Crepe cakes, brownie towers, cheesecake tiers, and Rice Krispie treats are all the rage right now. Don't be surprised if you see a savory take on the tradition as well─ cheese wheel towers made with the help of happy Californian cows.
Fashion Forward and Full of Style
Playful Balloon Décor

Balloons are a huge hit for any celebration; high school pep rallies, birthday parties and prom night have all incorporated these lively decorations. Whether you're planning a casual beach wedding or an upscale celebration at the redesigned Irvine Marriot, balloons will delight guests young and hold. When styled tastefully, they exude elegance and shout "celebration!" Consider using them as the focal point on the guest tables or intertwine them with a garland as a unique centerpiece.

Succulent Flower Arrangements
Succulent arrangements have dominated the interior design world and the wedding industry has embraced them as well. Imagine a dramatic succulent bouquet or pops of desert blooms in your floral arrangement. These long-living plants add texture and boldness to many arrangements but our absolute favorite integration is in living floral walls.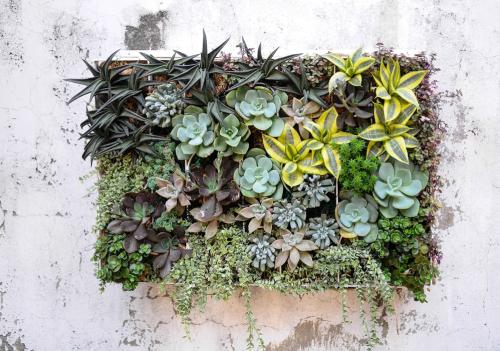 A vibrant succulent wall makes for the perfect ceremony or photo backdrop.
You heard right. When Bridal Fashion Week debuted their top trends for 2018, one standout feature was the addition of a cape or capelet to the bride's ensemble. If a traditional veil isn't your style, consider a cape to complement your wedding gown's tone and add a dramatic flair. Embellished, clean, or hooded, there are plenty of gorgeous styles available to accompany your wedding dress. Wear it during the ceremony but whisk it off at your reception to reveal a different look─ no outfit change necessary.
Personalized Wedding Rings

In the past, couples honored tradition by exchanging matching bands at the altar. Today, most couples recognize that their tastes differ, so they order their own distinctive ring styles. For women, vintage, petite styles are the popular choice. Men are opting for meteorite and mixed metals for a refined and masculine look. The important thing is to choose rings that fit your style and that you'll be proud to wear. No matter what you choose, make the ring selection process a priority. When the flowers wilt and your wedding attire is tucked away, the rings on your fingers will be a lasting sign of your commitment and your happy wedding day.
Meaningful "Extras"
Trimming the Guest List

As weddings grow increasingly intentional and personalized, many brides are opting for smaller guest lists. Instead of inviting distant relatives who they haven't seen in years, couples would rather host a more intimate celebration with the people who have supported their relationship since day one. By doing this, brides cut costs and save their money for bigger ticket items─ like a lavish honeymoon touring the Greek islands or a down payment on their dream home.

Investing in a Professional Photographer/Videographer

Wedding photography isn't a new trend, but brides and grooms view professional photos as a worthwhile wedding investment. Before wedding photography became a powerful industry, couples often asked a friend or family member to take photos of their ceremonies. And with professional equipment and editing software widely available, you might be tempted to hire a low-cost photographer for your wedding. Our advice? Choose a professional photographer and videographer for high-quality images of your day. If the price is discouraging, remember that this is the person capturing the memories you'll cherish forever.
It's an exciting time to be a California bride, and we can't wait to see the creative, beautiful celebrations these West Coast girls will dream up.
Jazmin Aguilar is the Social Media and Events Coordinator for Robbins Brothers and former Customer Experience Manager at various RB store locations. When Jazmin isn't working on community engagement, she can be found in her kitchen cooking for her loving boyfriend, traveling or practicing hot yoga.