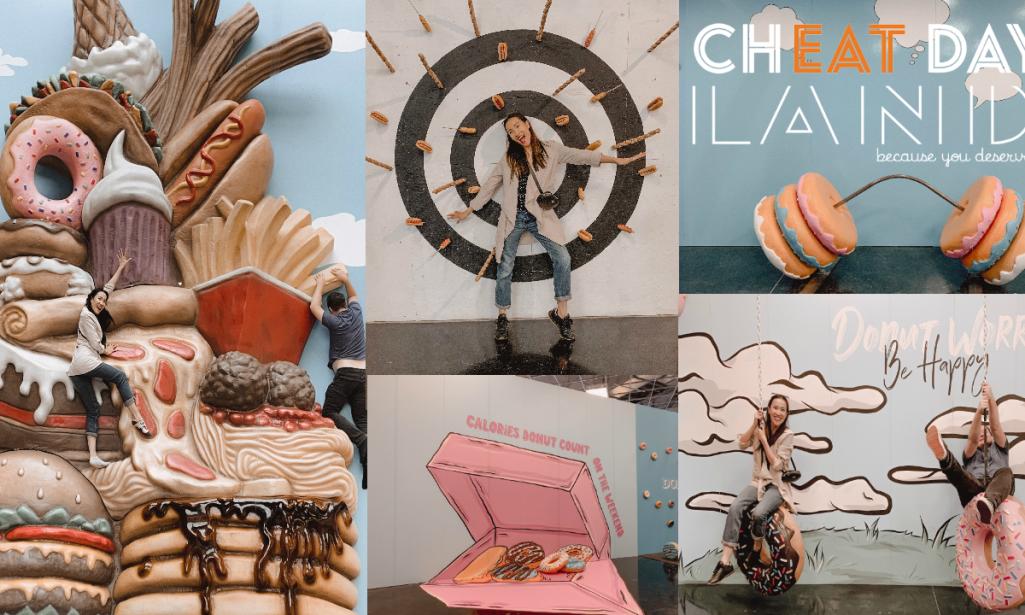 Are you ready to experience Orange County's first interactive pop up museum?! Cheat Day Land is giving you an excuse to indulge and celebrate in all things cheat food and desserts inspired with their experiential space overflowing with fun, vibrant photos ops and tasty looking activities. Located at the Irvine Spectrum Center, guests are taken on an exciting tour through various food realms - have a sword fight with oversized french fries, jump on a pancake stack trampoline, do a little dance while wearing a donut floatie, or even lift donut and cinnamon bun dumbells and weights. There's so much to explore and take in, it's sure to be a fun time for everyone of all ages!
I loved how open the space felt when I entered the first room, which you get to spend 30 minutes in. This large room is broken up into smaller stalls filled with different artwork and themes, and there are a ton of photo props you can utilize as well. Next you are taken into the Donut Gym which features a donut box you can pose in, donut swings you can sit on and gently swing around on, donut and cinnamon bun dumbells, and a squat press weighed down by cookies and oreos. Following the donut gym is an oversized cereal bowl that you can get into, then a cinema/music inspired room and a chocolate room. One of the climactic moments of the overall experience includes a food mountain that you get to "climb", I say "climb" in quotes because it's a fun illusion that you get to take part in. Before ending your Cheat Day Land experience, you get to enjoy a tasty treat (we devoured an ice cream bar and caffeinated ourselves with Monster Energy's Caffé Monster - treats change based on sponsors and availability); then you exit out by sliding down a slide. You will really be amazed by how many photo spots there are, keep scrolling down to see more and a video from my visit. 
Quick Tips
Get Tickets Online (see link below⁠—kids under 4 get in free)
Bring Your ID on your entrance day
Be sure to wear socks if you want to take advantage of the trampoline, cereal bowl and climbing the food mountain
Getting ready to take a bunch of photos, video and boomerangs - the tour guide is helpful in capturing your photos, etc
Don't bring bulky bags or strollers into the exhibit with you
CHEAT DAY LAND is an interactive pop-up museum that celebrates the connection between art and food.
The concept of the museum comes from people who share a love for food and art and includes unique installations from Los Angeles based artists. Founder and creative
director, Rubi Rymenmy was inspired by Japan's interactive museums to mix immersive art with all of her favorite "Cheat Day" foods. Rubi's family owns Art Flying Aerial fitness studio, an aerial and circus school.
Cheat Day Land is a place where kids can have fun and adults can release their inner child.
Location
700 Spectrum Center Drive, Irvine, CA 92618
BUY TICKETS - USE CODE DESTINATIONIRVINE for 10% OFF YOUR TICKET!