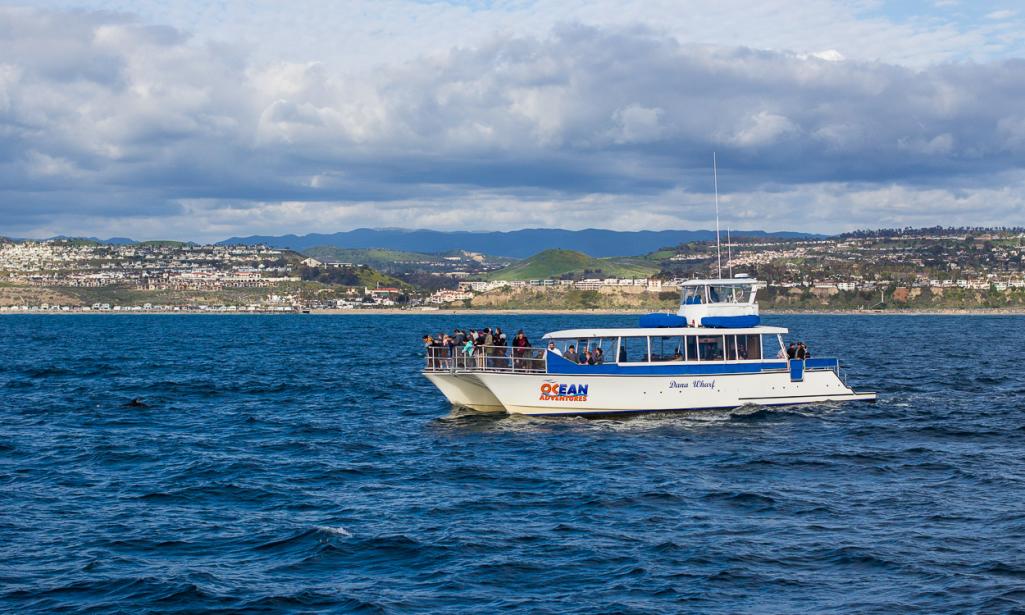 Our whale watching boat had barely cleared the harbor of Dana Point when the onboard naturalist shouted, "three spouts at 11 o'clock!" The captain of the Dana Pride turned and sped off to catch a view of the whales and show all of us landlubbers these majestic creatures.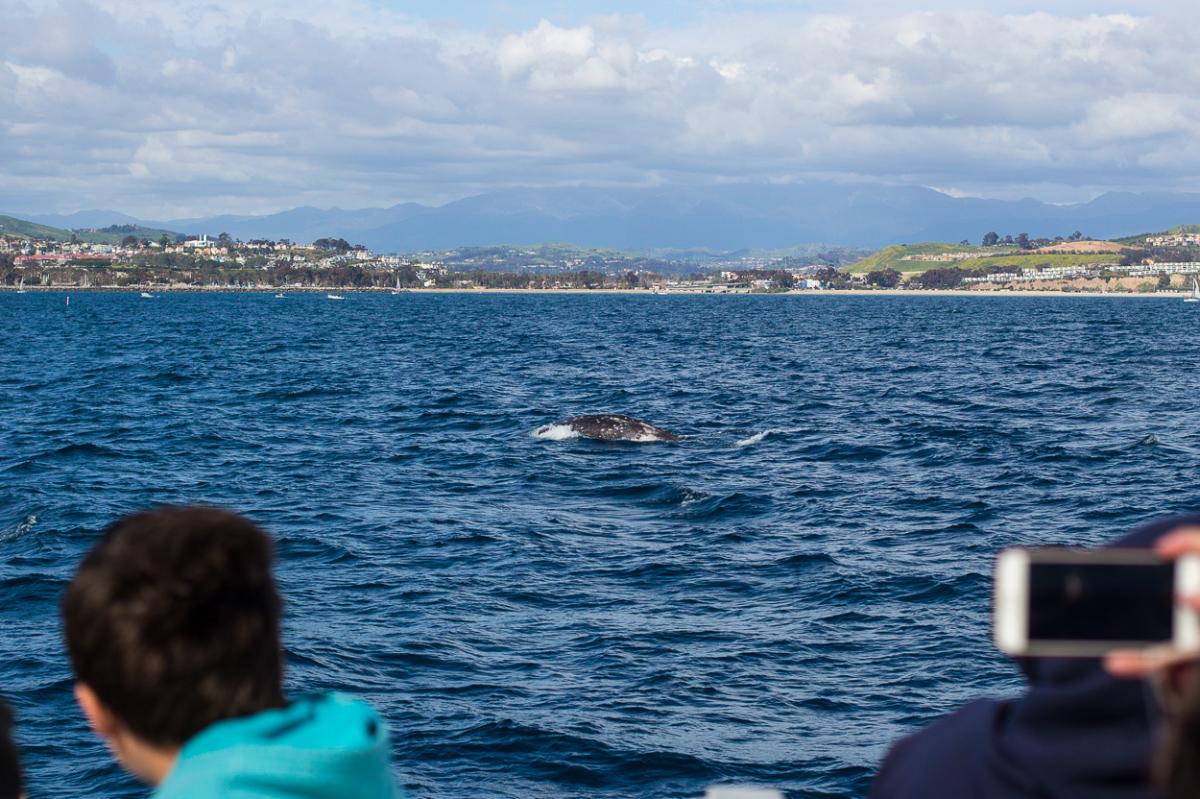 The coast of California is teeming with whales migrating from their breeding grounds in Mexico up to the nutrient dense waters of Alaska and back. Humpback whales, gray whales, fin whales, and so many other species make their annual journey past Southern California. It is breathtaking to see these giant mammals during their passage.
Dana Point is known as the "Whale Watching Capital of the World," and they celebrate this every March with The Festival of Whales. For two weekends in early March, visitors enjoy a fun parade, live music, hourly whale watching trips, an art show, kids activities, and so much more. Taking a whale watching cruise from Dana Wharf is a great way to see all types of sea life. They actually guarantee a marine mammal sighting or you will get a ticket to ride again for free.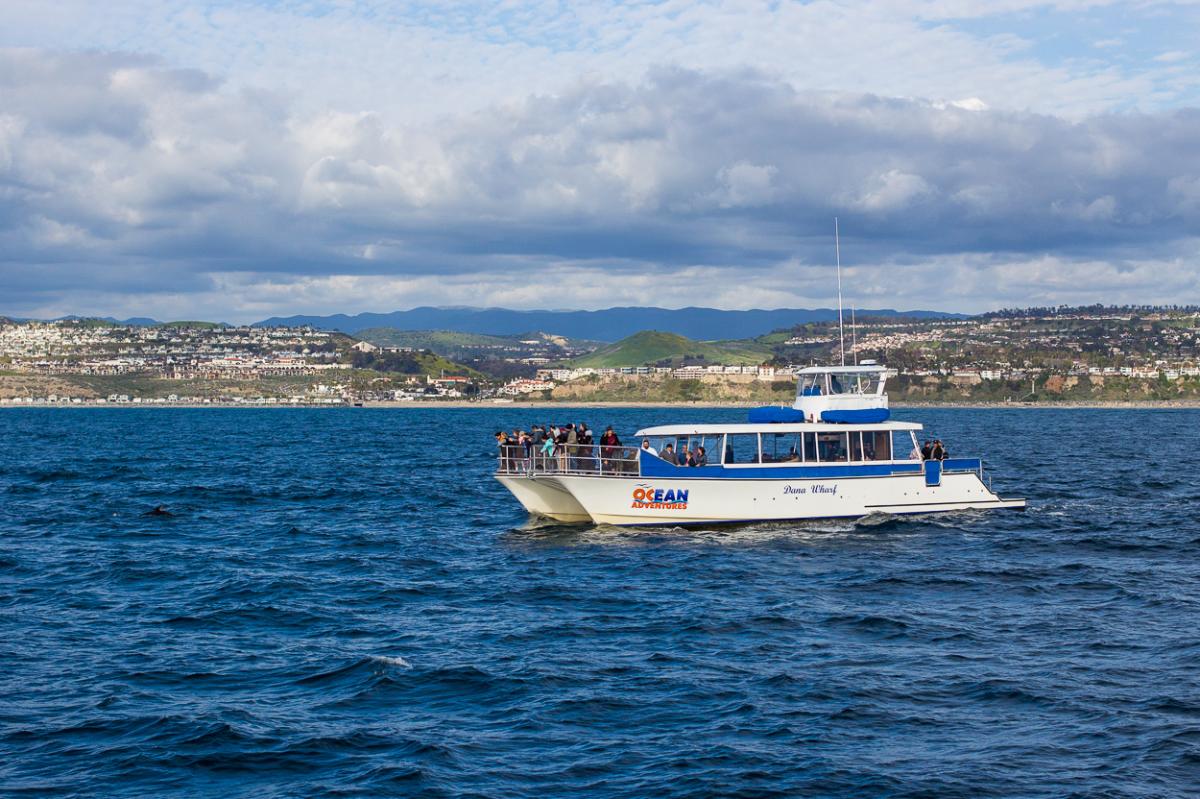 Whale watching is a year-round activity off the coast of California. Trips take off from Dana Point on one of their many boats and charters each day. Check their website to find out about ½ price Tuesdays, Super Saver Sunset Trips, private tours, school field trips, and more.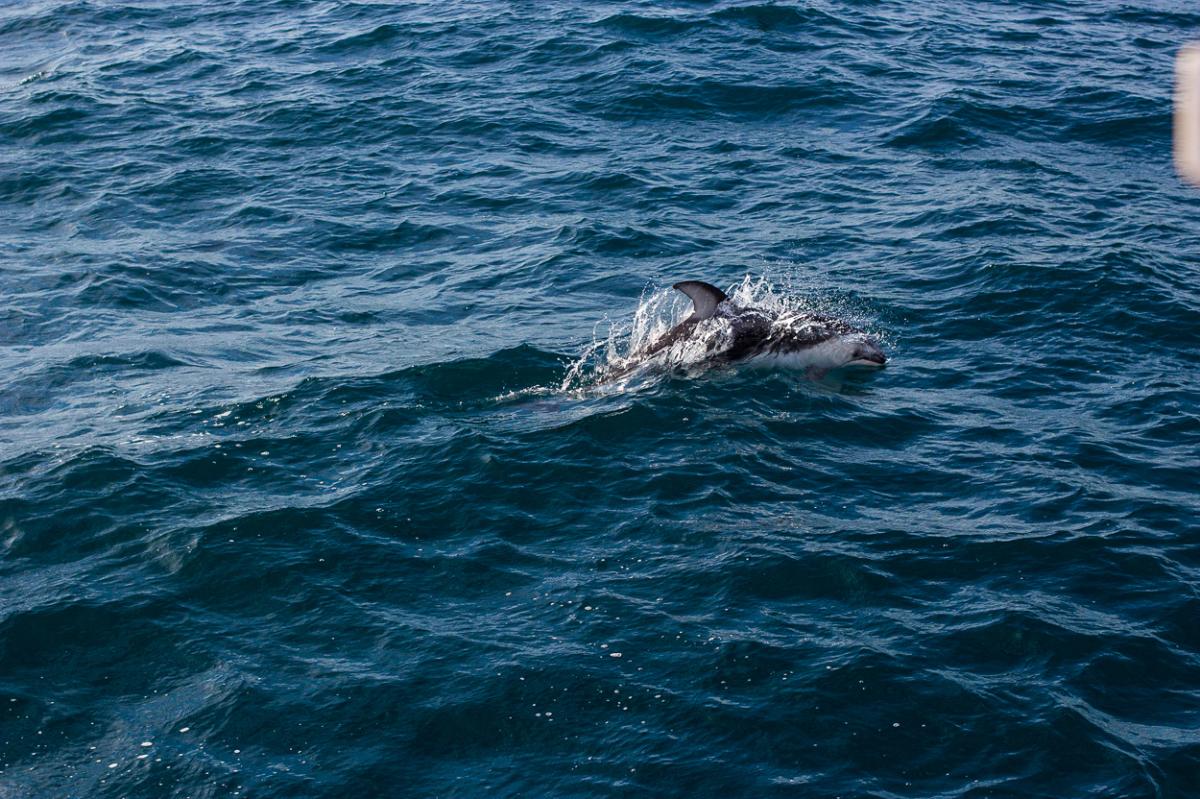 During our two-hour trip, we saw three humpback whales spout, crest their backs, and then dive to scoop up their food from the ocean floor. Hundreds of Pacific white-sided dolphins jumped and dove in the wake of our boat as we all laughed and wished we could swim with them. The view of Orange County glistening in the sunshine was a beautiful sight as we tried to see cars and spot our favorite beaches. Just the experience of being out on the wide Pacific Ocean was a thrill and a new adventure for the youngest in our group.
If you aren't convinced yet that taking a whale watching cruise should be in your future, check out this story by fellow author, Sharlene Earnshaw, who called her whale watching cruise, better than watching "Wild Kingdom!"
During the weekend of the Festival of Whales, there were these sightings of marine life: 42 humpback whales, false killer whales, 32 gray whales, fin whales, and tons of dolphins. Tours depart daily and year-round.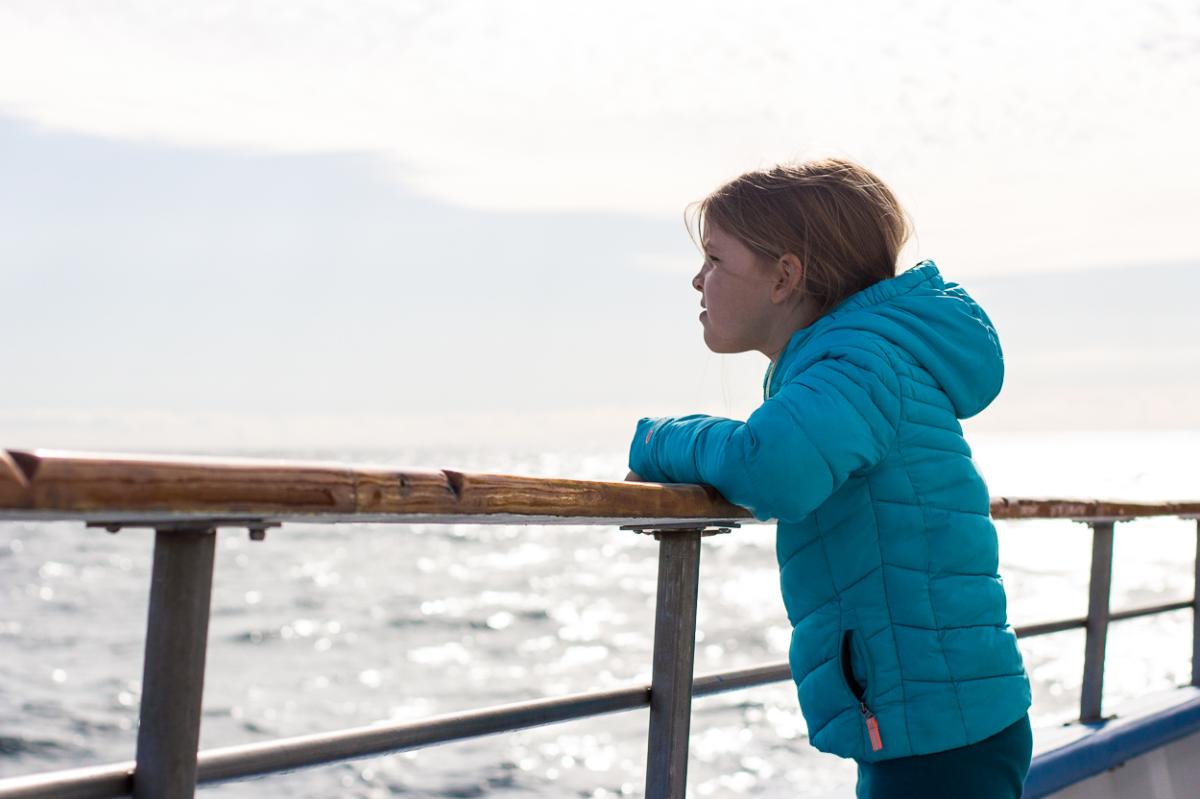 Tips for a great Whale Watching Trip
Wear layers, especially wind-proof jackets and hats. The air over the Pacific Ocean can be colder than on land, and riding on a fast-moving boat can feel very cold.

Apply sunscreen and chapstick before the cruise and reapply as needed

Bring water and salty snacks.

Bring cash for snacks, burgers, drinks, and more in the galley

If you are prone to seasickness, consider a non-drowsy medication to help alleviate symptoms such as Dramamine or Bonine. Or try an acupressure wristband.

Keep your eyes on the horizon and stay outside the galley in the fresh air during the trip to subdue seasickness symptoms

The front and right sides of the boat are great vantage points for viewing the whales and dolphins.

Wherever you sit or stand on the boat, don't be shy about walking around and viewing things from different vantage points, but hold onto the rails!

Bring a camera with a strap and hold onto your phones tightly!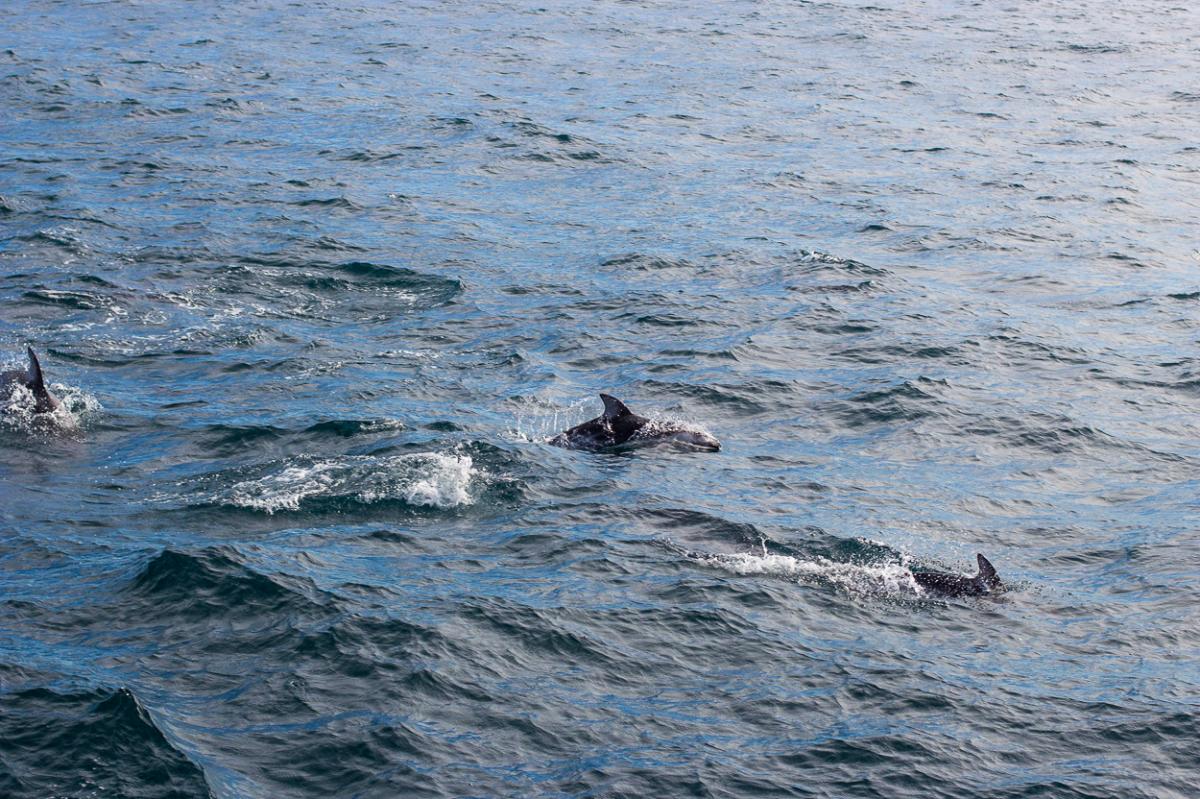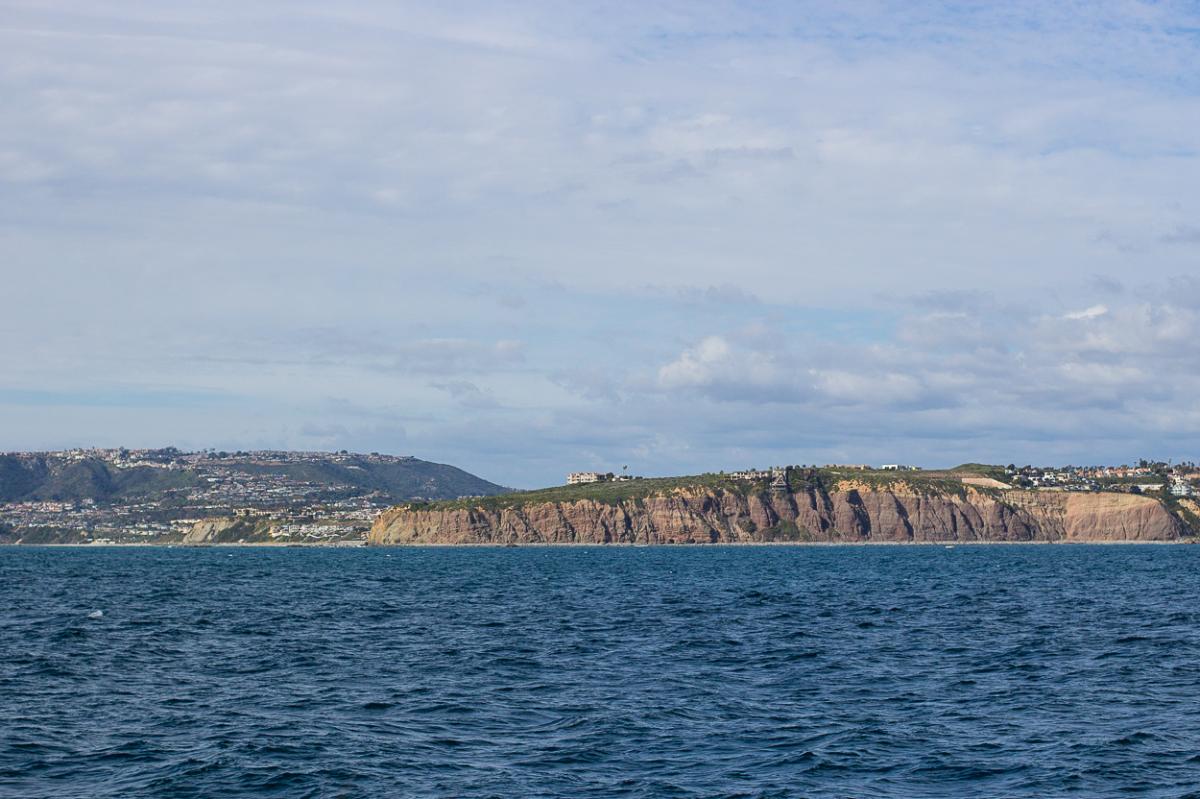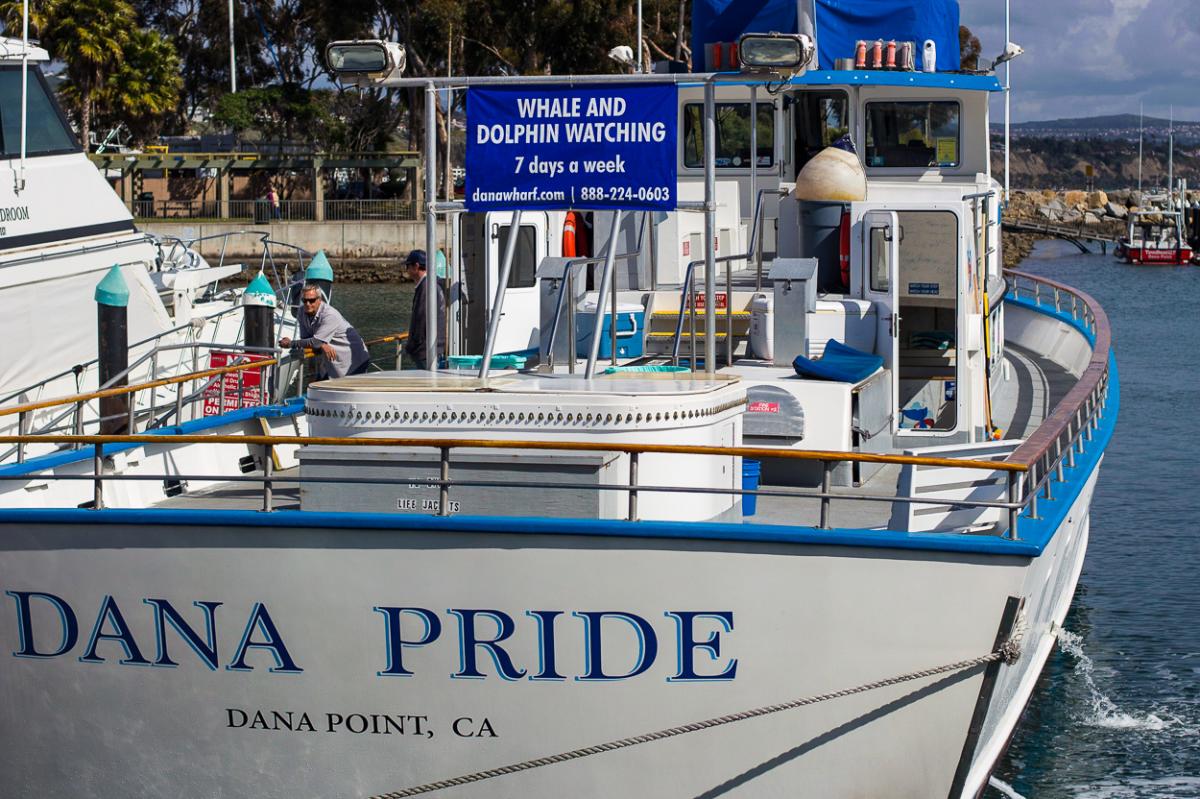 All photos by Michelle McCoy