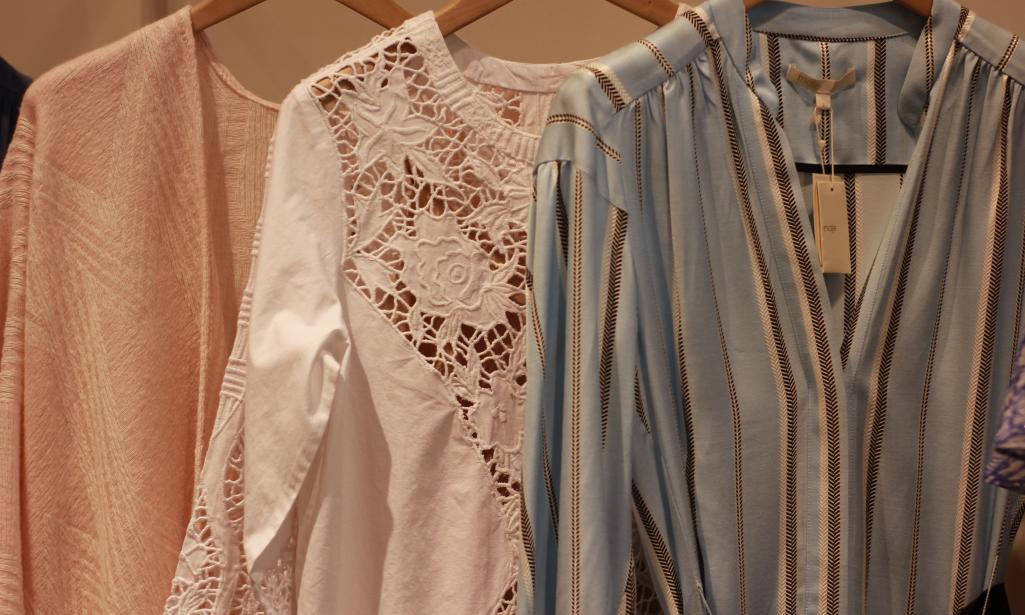 As apart of the Travel Essentials series featuring brands at South Coast Plaza, here's a look at luxe womens fashion pieces you can add to your wardrobe while traveling to Irvine or Orange County. I selected a handful of pieces fitting for wearing while traveling as well as for sightseeing, shopping or dining and entertainment.
When thinking about what to pack for a trip, I always take weather into consideration; being that you'd be traveling to sunny Orange County (well, mostly sunny), these pieces will be great for wearing in our mild to hot temps. I also like to pack clothing and accessories that are versatile and can be worn multiple ways (to cut down on the amount of items I pack), therefore, most pieces that I rounded up for this feature can be styled from a day to night look.
Vacation means you will most likely be documenting your trip in one form or the other, whether posting onto social media or printing photos to frame for your home or office; you'll want to put your best outfit forward for any photos and film footage. South Coast Plaza has an amazing selection of contemporary womens stores that offer a variety of statement, yet timeless pieces to add to your travel and long-standing wardrobe. I stopped into MAJE and SANDRO for key fashion pieces that can be seamlessly added to your travel style when visiting Irvine/Orange County.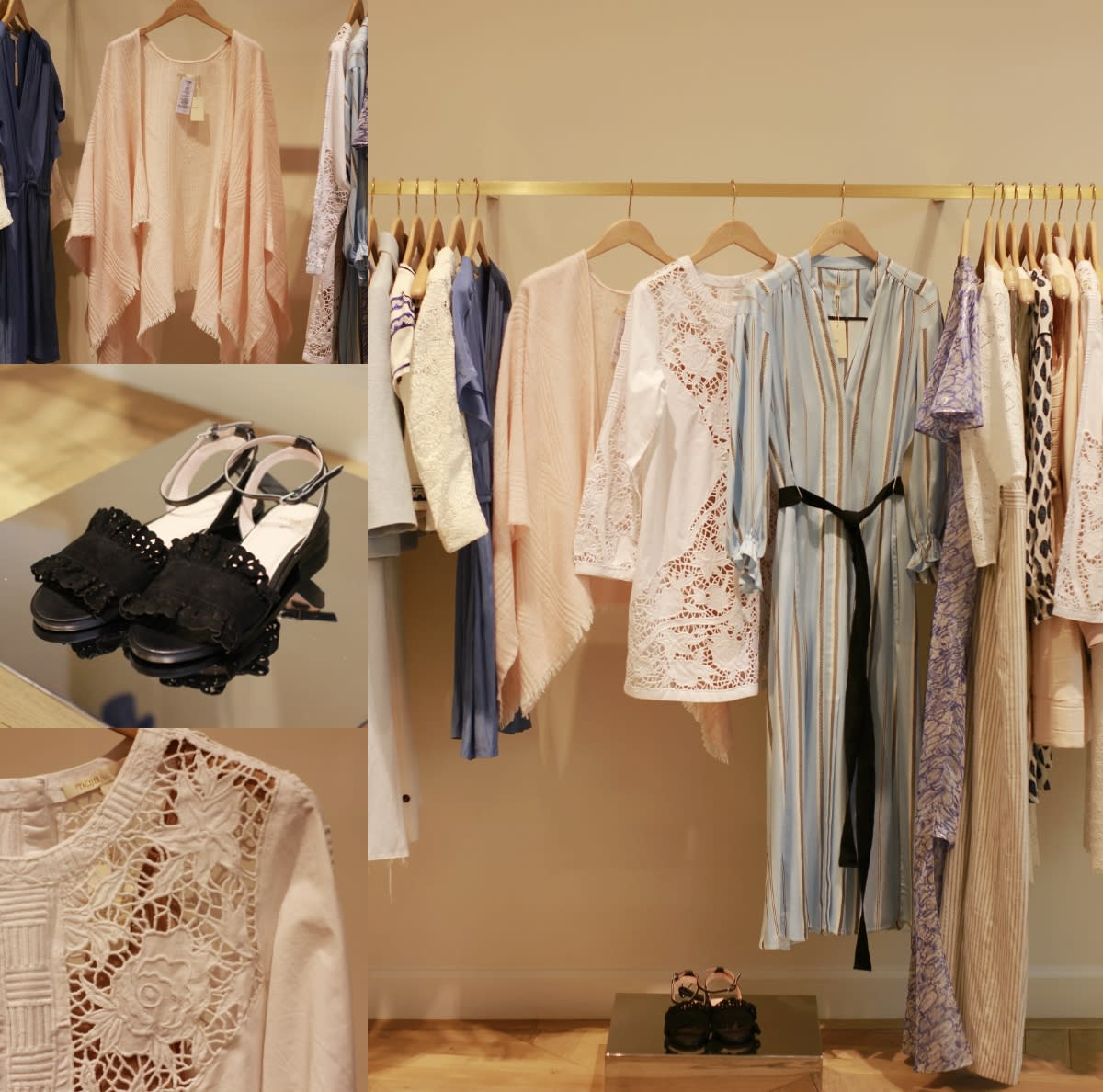 MAJE 
Maje is the epitome of all things pretty, chic and effortless. I could spend hours in this store. Whether traveling by plane or car, you always want a coverup piece to snuggle in or keep warm (in the chilly plane) without bringing a blanket with you. Maje has the perfect shawls and ponchos that are easy to throw over any outfit such as a t-shirt and jeans or shorts for a daytime/travel look. To take your shawl to an evening look, wear a basic top, black skinny jeans, heels or heeled booties, belt your shawl together and add a necklace. 
An easy way to look put together but not have to think about what to wear is by packing/shopping for statement dress styles; I don't mean a formal gown, but printed or textured dresses that need no other styling except for a handbag and shoes. My eye was immediately drawn to a lace-type of white dress which can be styled casually with a light trench coat, pastel jacket or coat, or suede or leather jacket (for an edgier look). This dress also looks fresh, and along with the flowy, striped maxi-style dress I selected are perfect for wearing poolside or at the beach while walking along the boardwalk or dining on an oceanside patio for brunch. Both dresses can be styled with a sandal or booties for day and heels for night. If you want a dressier evening look, you can style a statement necklace that sits right along the neckline of the white lace dress; or a long or layered necklace for the striped maxi dress. 
SANDRO
Sandro is my go-to for a hip fashion-forward, street style kind of look. They have a great selection of blousey tops and shorts, so I selected two top and short looks that can be worn at the pool, for shopping, or a fun day at the beach. Each look can be styled with a simple sneaker or with sandals or wedges. Both tops have some kind of detail that sets it apart from just any ol' top, one top has a bold stripe with crochet sleeve details, and the other a retro plaid print with a back tied bow detail; each can be styled with what you already have and give off an effortlessly street chic look.
For a dressier look, I grabbed a flowy, printed midi dress that can be worn alone for a day look or easily paired with a suede or leather jacket for an evening look. The dress is cinched at the center and you can therefore accessorize with a belt over the cinch for a different look.
If you're into trends, Sandro has a plethora of unique, retro-inspired cuts and pieces that would make for a great outfit statement.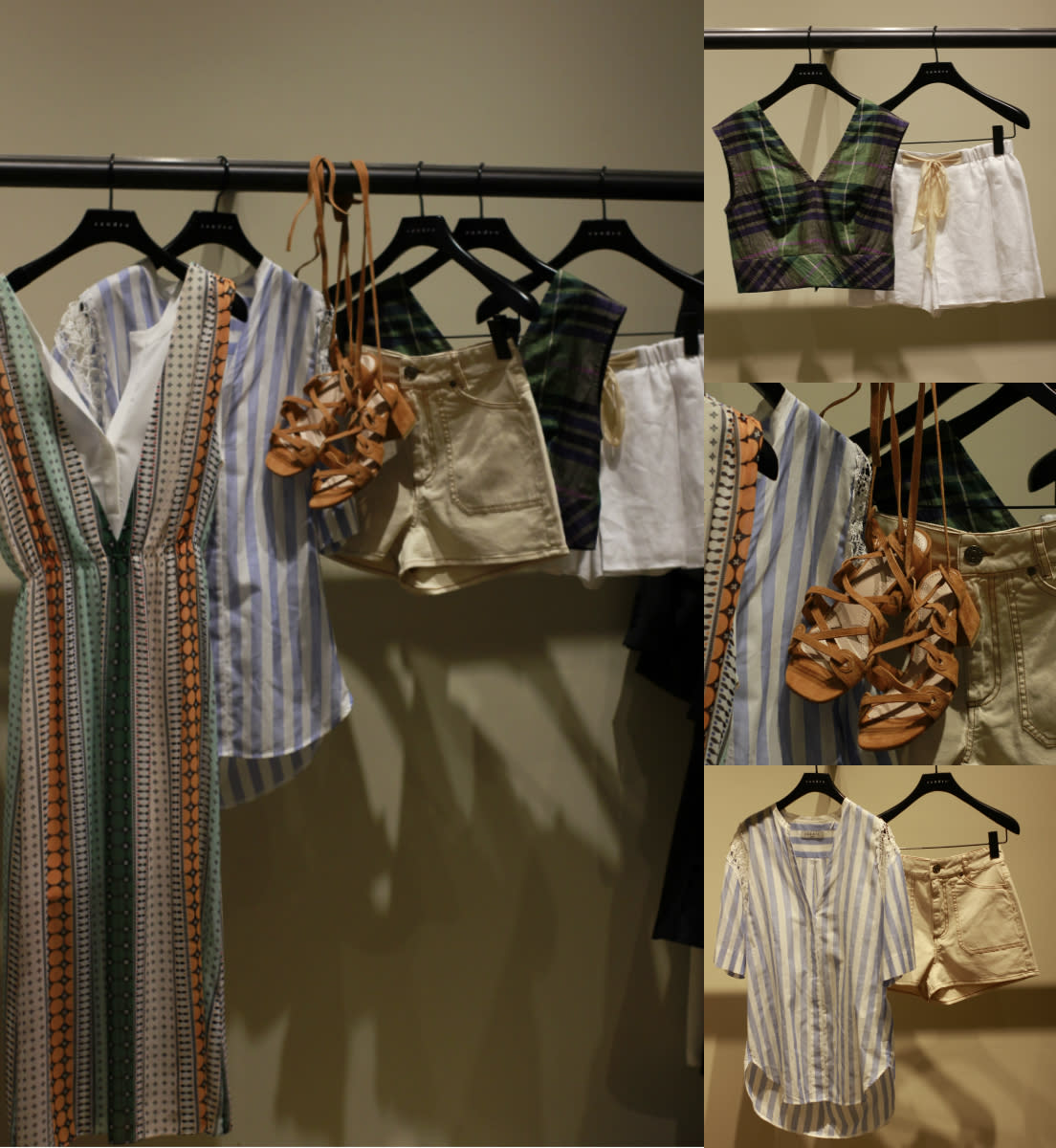 Both MAJE and SANDRO are located on the 2nd floor of the Bloomingdale's wing of South Coast Plaza.  
SOUTH COAST PLAZA
3333 Bristol St,
Costa Mesa, CA 92626 
MAJE (714) 557-2933
SANDRO (714) 557-2820
Looking for things to go in Irvine/Orange County? Check out the events calendar here! 
Happy Shopping & Travels!
Amanda | Feast.Fashion.Faves