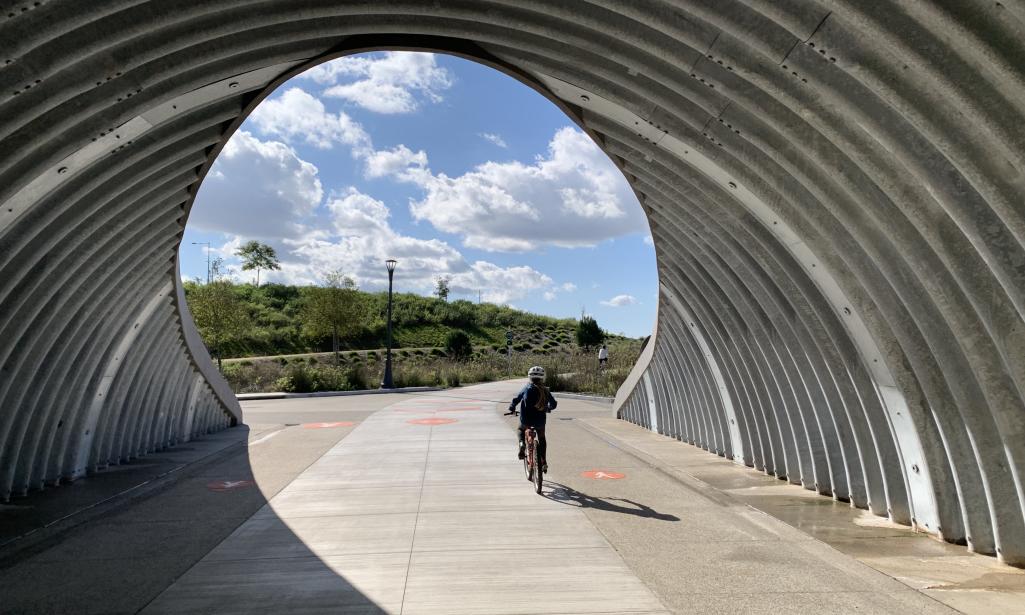 A new pedestrian friendly trail has opened in Irvine and it is both beautiful and functional. Do you love the Jeffrey Open Space Trail? If so, you will love the new Bosque Trail, created by Fivepoint as part of the Great Park. Situated along the street named "Bosque" is this beautiful stretch of nature, trails, and vistas of Orange County.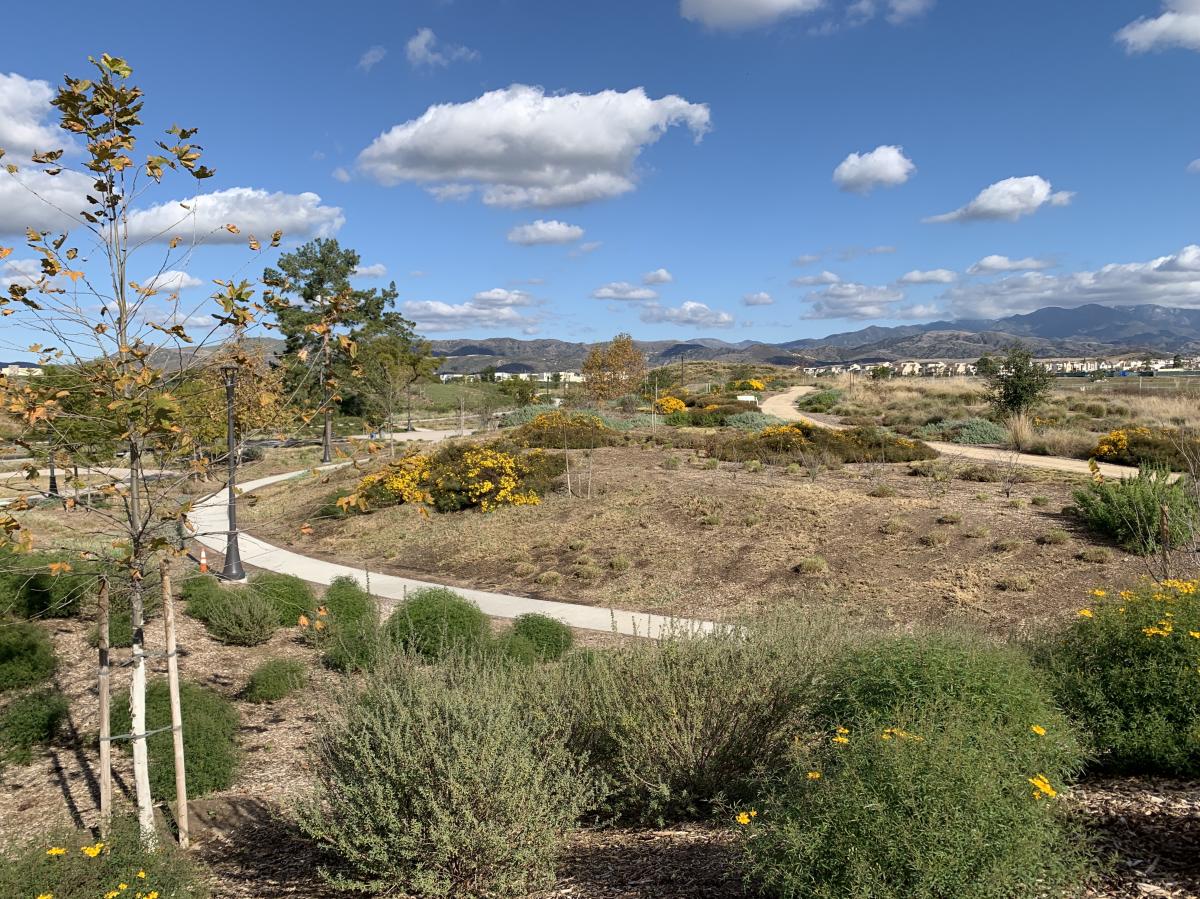 A wide and paved bike path meanders fairly straight from Irvine Blvd, through tunnels under streets, and down to Great Park Blvd. Rest areas are stationed along the path with benches for sitting, water fountains, and sign posts with directions. A few restrooms dot the path and parking lots along the side give access. Smaller pedestrian paths wind more artfully through the trees and hills and are paved with cement. Walkers will find other gravel paths to explore as they travel the area. Be sure to notice the cleverly repurposed cement blocks of the old tarmac now used as large benches along the trail. Elements of the old Marine Corps Air Station.
A large children's play area sits at the southernmost section of the trail with interactive equipment, slides, swings, and climbing cubes. Overhead shade, tables, and benches make the area nice for all visitors. Families can explore bridges, stairs to sweeping views, and gravel paths near the play area. From this park you can watch the Orange Balloon go up and down as it takes visitors 400 feet up in the air. For details on the amenities of this playground, visit Fun Orange County Parks website.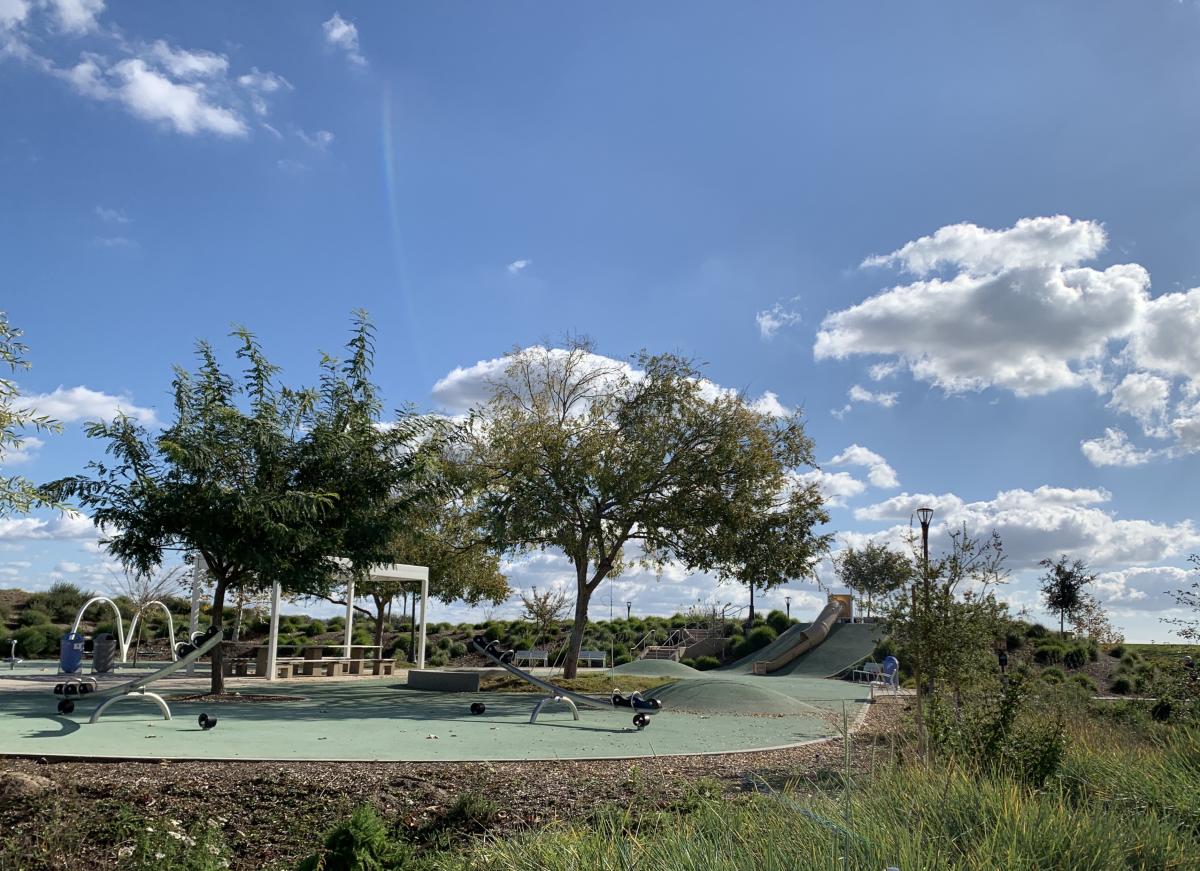 The landscape was carefully planned by FivePoint for this area as they wanted to both preserve the natural features and bring in native plants. Coast Live Oak trees, Western Sycamores, and California Poppies are just a few of the native flora that can be found in the Upper Bee and Bosque Areas. Large trees that have grown for years on the old Marine Corps Air Station, El Toro have been preserved and replanted along the trail. These "Heritage Trees" cast large areas of shade and are beautiful to see. All of the planting represents the natural elements found in California and makes this a wonderful place to explore.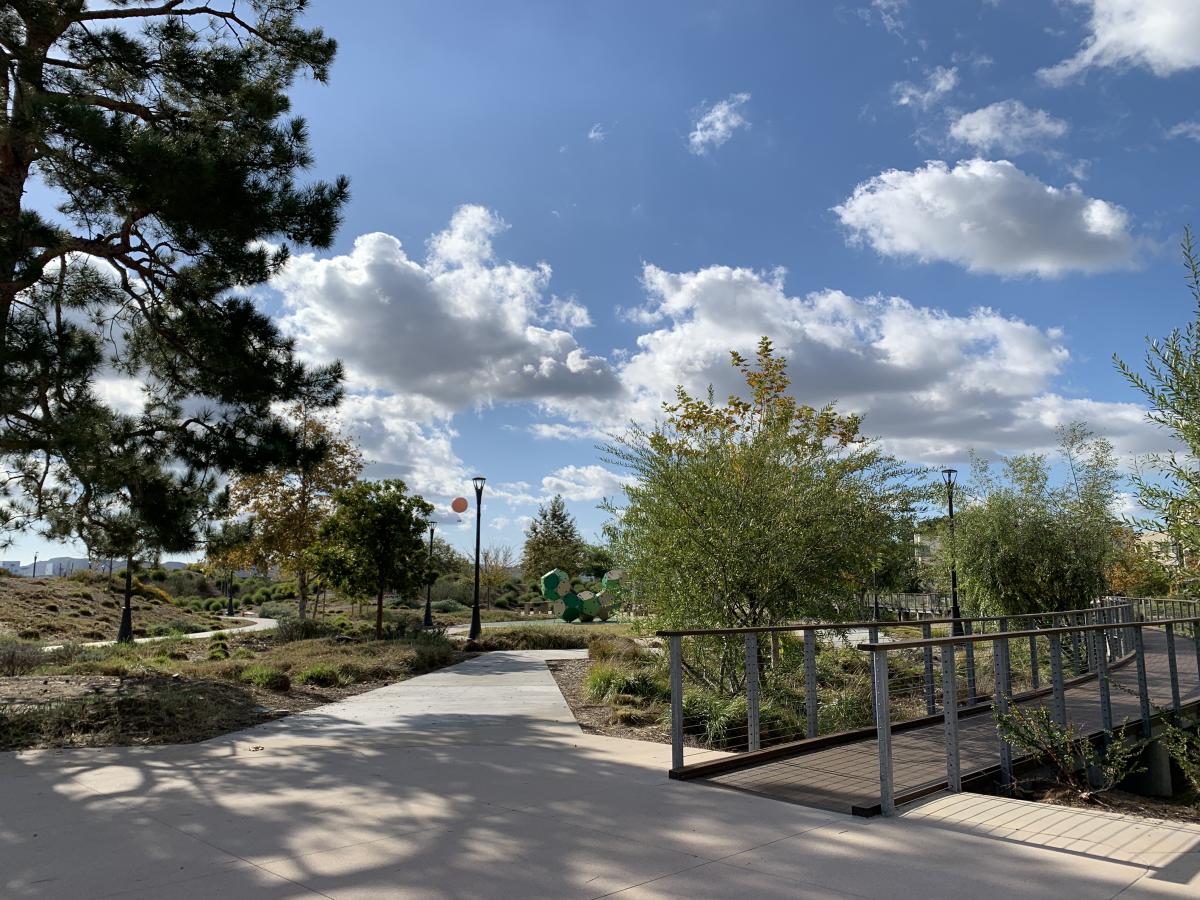 Make this 2-mile, round trip trail your next outdoor destination or as part of your exploration of the Great Park. It will bring beauty to your day.
Check out other bike and pedestrian friendly trails of Irvine and Orange County: Jeffrey Open Space Trail, Irvine Ranch National Landmarks, Irvine hikes, and Family Friendly Day Hikes in Orange County.
All photos by Michelle McCoy Photography