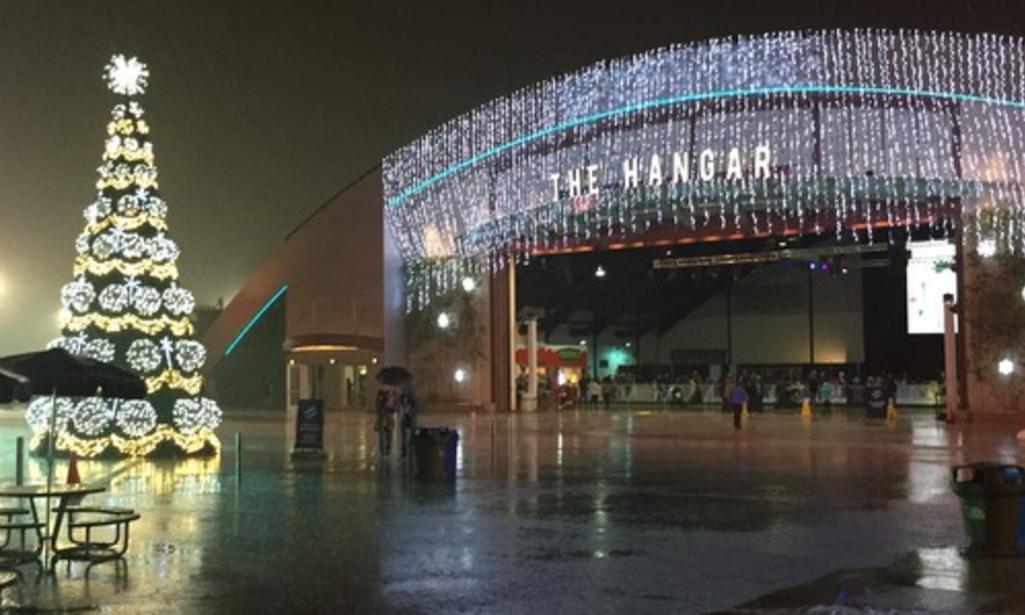 Snow doesn't fall in Orange County. Our palm-tree laden home isn't the place to fulfill those dreams of a white Christmas. While we are more likely to be surfing than having snowball fights, that doesn't mean Orange County is can't have our share of winter fun. 2015 is the inaugural year of Winter Fest, a carnival-meets-winter-festival taking place at the Orange County Fairgrounds December 18- January 3rd.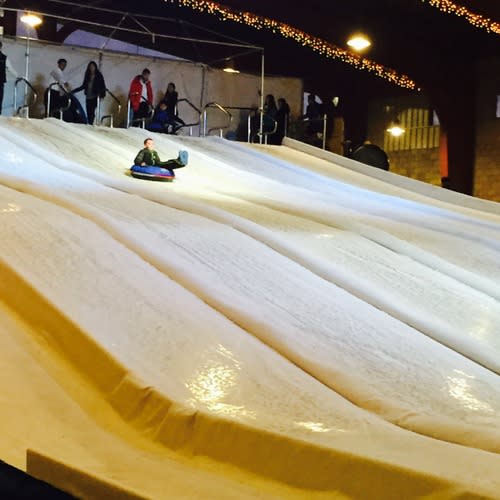 Ice Slides
Who says you need a snow hill to go sledding? Children will love tubing down the indoor ice slides. My kids couldn't seem to get enough of the slide which zipped kids down in comfortable tubes (small and large tubes are available) that shoot down one of six different lanes. Safety is top priority and helpful staff will make sure that one child goes down the lane at a time. If the lines are long and your patience is short, you may consider purchasing a Fast Pass for $15 that allows you to skip the lines and get right on down the hill.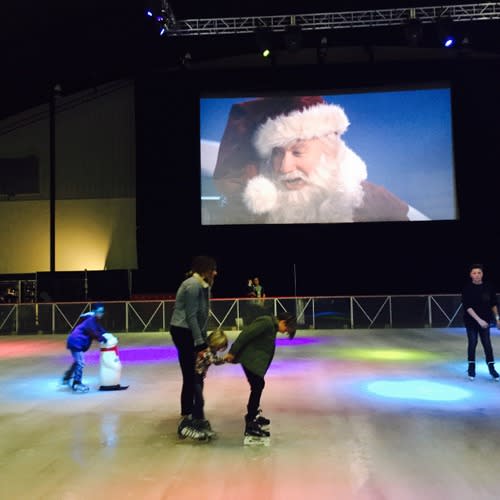 Ice Skating
Winter Fests large outdoor rink is sheltered by a hangar, which proved to be a real relief for my family as we were caught in a downpour. Holiday music is pumped throughout the rink and a massive screen shows classic Christmas movies. It was fun to skate around the rink and Santa on the big screen. Ice skating is not included in the cost of admission. The rate is $15 per person and does include skate rental. Adorable little penguins and polar bears ice skating assistants, helpful for new skaters and little ones who aren't sure-footed, can be rented for $5. Food, hot chocolate, and adult beverages can be purchased inside the hangar. I think the Winter Whisper- Baileys Irish Cream, Kahlua, Butterscotch Schnapps, and half and half sounds especially tasty.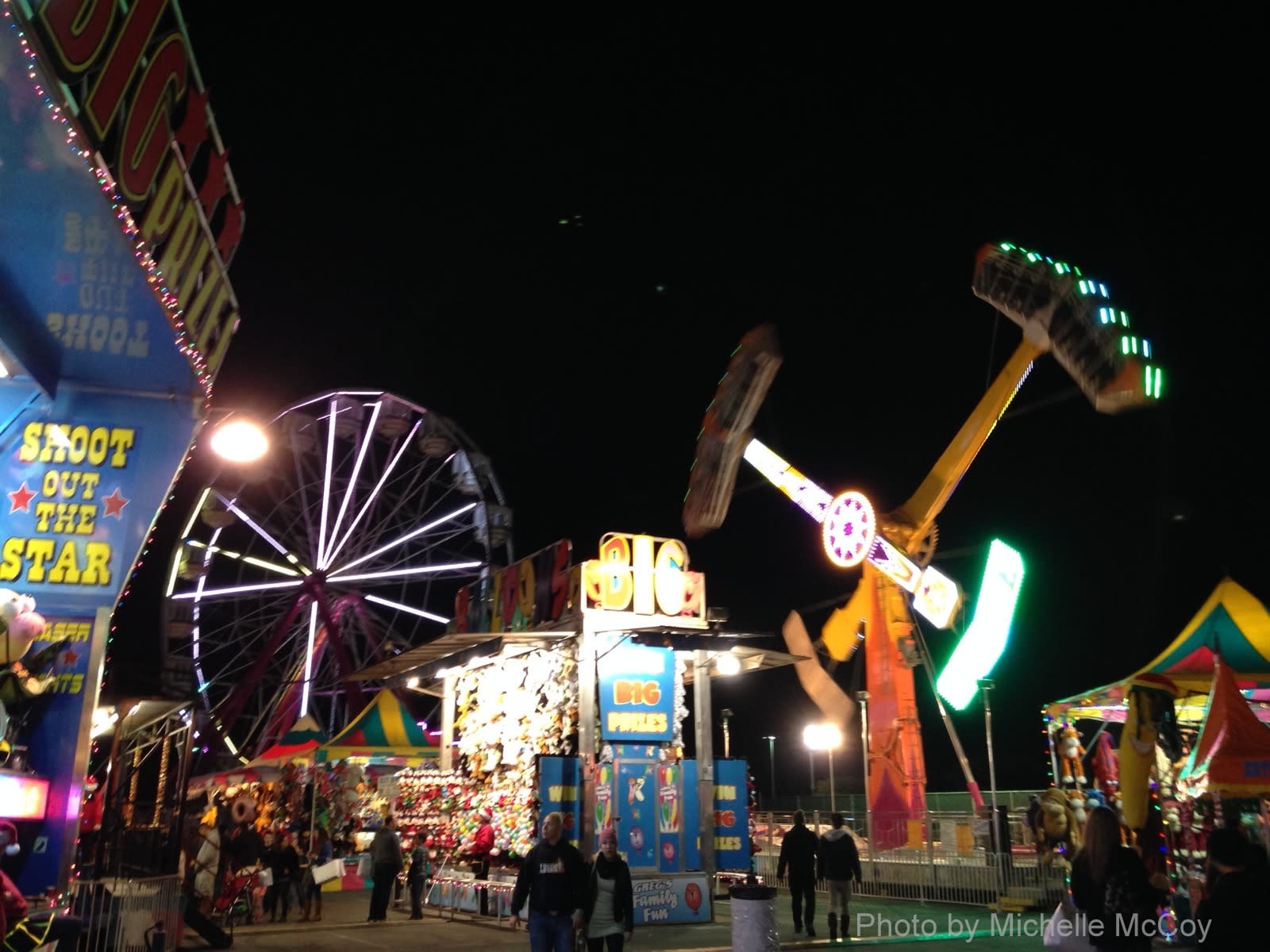 Candy Cane Carnival
The Candy Cane Carnival is your typical fair carnival. There are rides ranging from the carousel to rides that zip. spin, and flip thrill-seekers. Various carnival games will test your skill (and luck), rewarding winners with stuffed animals of all shapes and sizes or the classic carnival pet- the goldfish.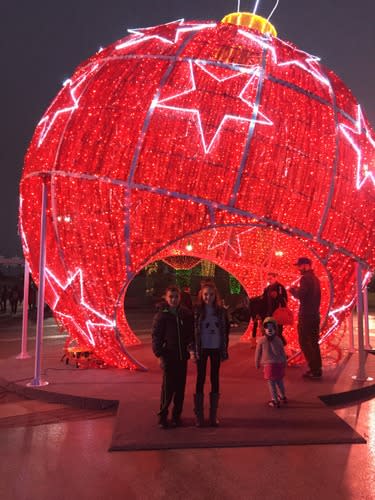 More Christmas-themed Fun
No holiday-themed event is complete without Santa and his reindeer! Luckily Santa likes to hang out at Winter Fest and can be found in the building housing crafts, balloon artists, a face painter, cartoon artist, and several model trains. The reindeer can be found outside in their outdoor pen located between ice skating and the Candy Cane Carnival. They can be fed at various times throughout the day. Holiday performers such as carolers, dancers, singers, and a magician can be found throughout Winter Fest. At 5:30PM every evening, the Christmas Tree lighting is not to be missed. The tree is quite beautiful and the lighting includes a "snowfall". Of course, no visit to Winter Fest can be complete without a walk through the world's largest walk-through ornament, which glows bright in hundreds of red lights every evening.
Details
Child admission tickets are $20 at the door or $10 online. Adult admission is $30 at the door and $20 online. Unlimited carnival ride wristbands are available online for $20. Every Wednesday is "Nurse Appreciation Day" and nurses will be granted free admission with a valid workplace ID. Every Thursday is "Teacher Appreciation Day" and teachers will be granted free admission with a valid workplace ID. All firefighters, law enforcement personnel, active and retired military will be granted free admission daily through January 3, 2016. All participants are required to show proper ID verifying their profession at the ticket booth to receive admission. Hours vary depending on the date. Visit the Winter Fest website for more information.